You can be creative with your Instagram stories by adding emojis, memes, and even background music. By this, you can win the heart of any follower whether you are building your brand or marketing a product or service. And since the Tidal streaming service offers you over 70 million tracks, it's a good idea to add some Tidal Instagram stories and spice up your campaign. But sometimes, this doesn't go on as planned. You may suddenly face Instagram stories not working issues that draw you back and kill your spirit.
Perhaps the Instagram stories may be corrupt and refuse to work as scheduled. It could also arise due to an unstable connection or because your Instagram is out of date. All is not in vain. You can still manage to fix Tidal Instagram stories not working issues in various ways.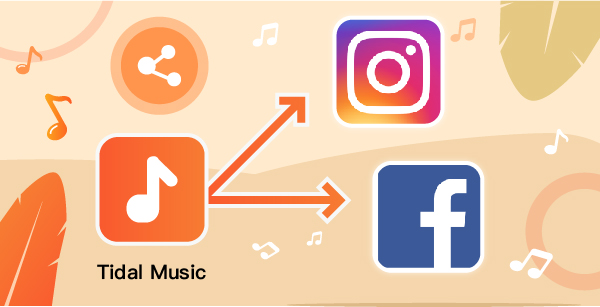 ---
Part 1. Tidal Instagram Stories Not Working: All-in-one Solution
The first solution to effortlessly upload Tidal music to Instagram stories is by using AudKeep Tidal Music Converter. With AudKeep, you can quickly upload HiFi and high-quality Tidal music to your computer and use them on Instagram without further restrictions. It supports converting Tidal to FLAC, AAC, MP3, M4B, Lossless, and many more. More so, you get the original quality of your music and you also manage to retain the ID3 tags and metadata information.
When it comes to speed, AudKeep will run at X5 speed, which is an excellent giveaway. Likewise, it supports you to have an organized music library as you can easily sort your output Tidal files by artist or album.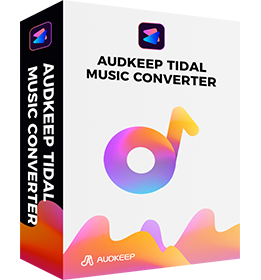 Features of AudKeep Tidal Music Converter
Keep all metadata and ID3 tags for lossless quality
A faster speed of up to 5X rate
Organize your music files by the artist of the album
Support output formats like MP3, FLAC, M4B, etc.
How to Use AudKeep to Download Tidal Tracks on the Computer
AudKeep Tidal Music Converter will help you to add Tidal music to Instagram stories. It will remove any limitation on the Tidal playlist and let you access Tidal Premium for free. You can opt to upgrade to the full version for advanced features as well. Once you download and install the AudKeep app on your computer, launch it and click on the "Log In" button to log in with your Tidal account.
Step 1 Set output format for Instagram stories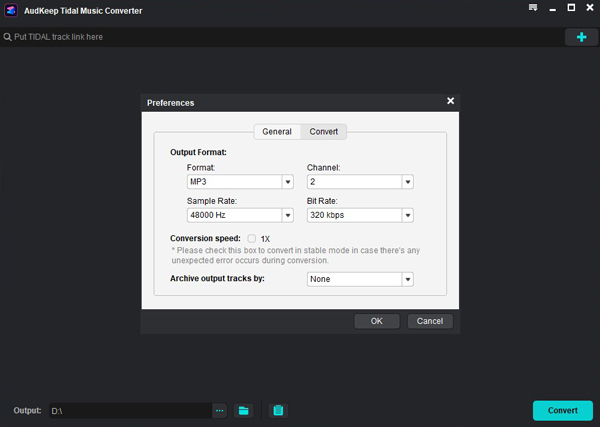 AudKeep lets you set your preferred output format and other parameters. Click the "Menu" icon and go to the "Preferences" option > "Advanced" icon. The settings window will immediately pop up and you can begin to set the output format and customize other settings. These include the bit rate, channel, audio codec, etc. Next, click the "OK" button to affect the settings.
Step 2 Import Tidal music to AudKeep for Instagram stories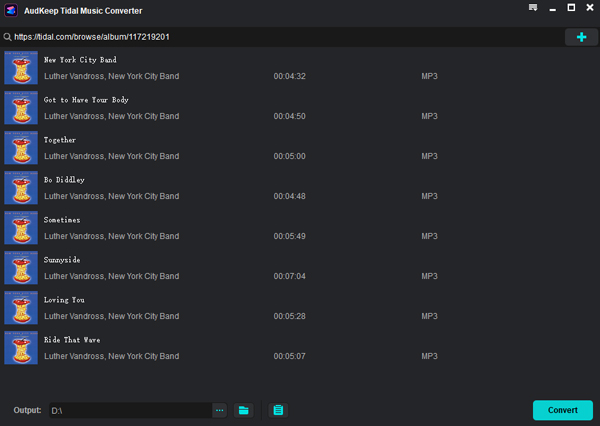 Select the playlist you want to download and convert from your Tidal music library then hit the bright blue "+" to add them to the interface.
Step 3 Convert Tidal music for Instagram stories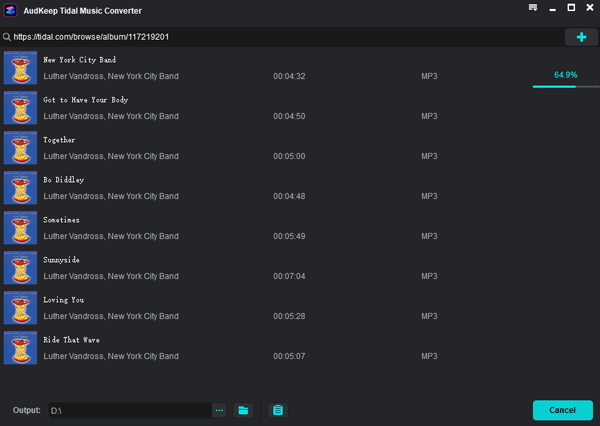 Confirm that your settings are correct then hit the "Convert" button to let the conversion process begin. You can then check in the "Converted" folder for the converted Tidal playlists on your computer.
---
Part 2. Add the Tracks to Instagram Stories and Facebook Stories
AudKeep Tidal Music Converter just converted your Tidal playlist and made them playable on any device. You can now play the tracks or add them to your Instagram stories from your computer. First, use a USB cable to transfer the converted Tidal playlist from the computer to your phone then add them to Instagram. Here are the steps.
Step 1. Open the Instagram app on your phone and go to your story. Just tap on your profile picture in the upper-left corner of your screen.
Step 2. Proceed to take a story which could be either a photo or a video and tap the sticker icon at the top of your phone screen.
Step 3. Next, go to the "Music" sticker and find the Tidal song you want to add, and then tap on it.
Step 4. You may choose to edit the fade, timing, or other settings to spice your track. Just move the slider bar and choose which part of the song to be played in your story. Remember Instagram songs can only play for 15 seconds.
Step 5. Tap the thumbnail to change the album icon then hit the "Done" button. You can also move the lyrics anywhere across the screen.
Step 6. Next, tap on "Your Story" in the bottom left corner to post it on your Instagram. Your followers will now manage to listen to the song you choose anytime they open your story.
---
Part 3. Tidal Instagram Stories Not Working: Common Solutions
Here are solutions to solve the Tidal Instagram stories not working issues. But ensure you check on your Internet connection before you embark on other solutions.
1. Restart Instagram App
Your Instagram may just need a quick restart for Tidal Instagram stories to work.
Step 1. On an Android device, go to the "Settings and Apps" option on your phone.
Step 2. Then select "Instagram" and "Force Close" it.
Step 3. On an iOS device, navigate to the "Home Screen" and swipe Instagram up to close the app.
Step 4. Then re-open it from your app drawer and check whether it now works.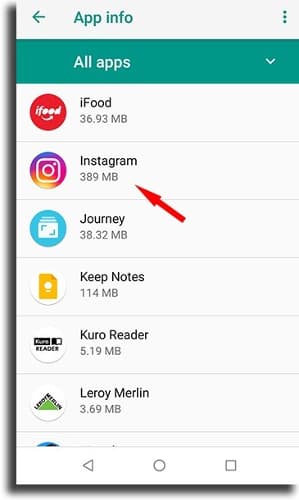 2. Clear Instagram Cache
Try clearing your Instagram cache if it will solve the problem.
Step 1. Go to the "Settings" option.
Step 2. Then tap on the "Apps & notifications" option.
Step 3. Next, select "Instagram" and go to the "Storage" section.
Step 4. Lastly, choose the "Clear Cache" option to solve Tidal Instagram stories not working issue.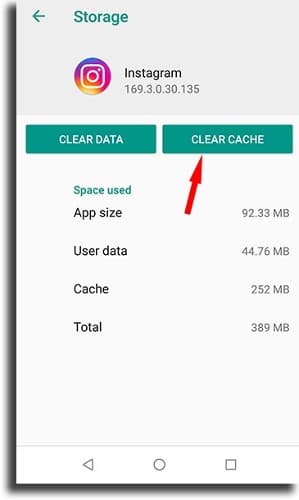 3. Update Instagram
A version error can also cause your Instagram stories to just spin and not load. Follow these steps to update your app. For Android devices, update the app via the Google Play Store while iOS devices will work from the App Store.
Step 1. Tap on the "My Apps & Games" in the new menu that will show up. It will open up another window will all of your installed apps.
Step 2. Check if Instagram is among the apps that need an upgrade and then tap on the "Update" option and wait as your phone updates the app. Ensure you are connected to the internet for the update to take effect.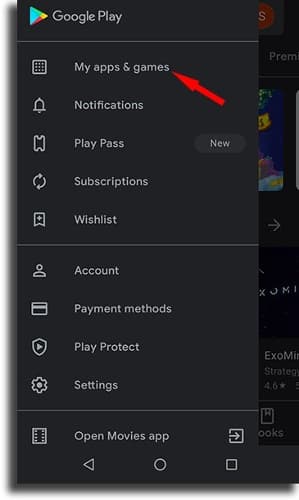 More Tips: Share Tidal to Instagram Stories and Facebook Stories
Once you have solved the Tidal Instagram stories not working issue with these above steps, you can now share Tidal to Instagram stories and Facebook the official way via these steps.
Step 1. Launch the Instagram app on your phone and then tap on the "vertical three dots menu" at the bottom-right corner of the screen.
Step 2. A pop-up will appear with a set of options, choose the "Share" option.
Step 3. Tidal will then ask you to specify your target platform. Choose your desired landing point, whether "Instagram" or "Facebook" option. Then tap on your preferred option and the app will redirect you to Instagram or Facebook.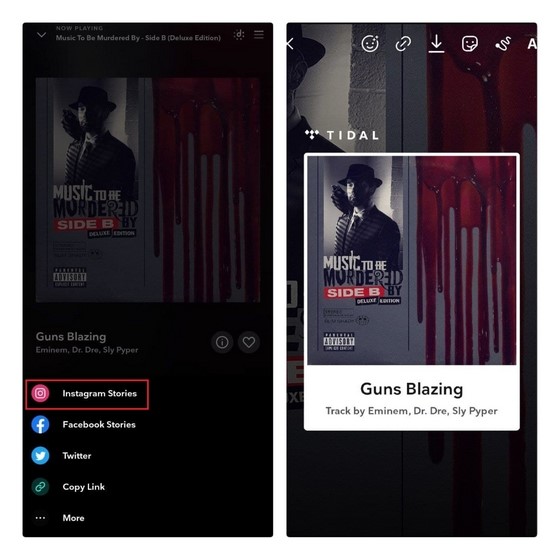 ---
Part 4. Conclusion
Don't be limited to sharing your Tidal Instagram stories with friends and followers. We have tackled how to solve possible Tidal Instagram not working issues in this article. You can stream your music offline with the best Tidal Converter or fix any issues to open up ways to share Tidal songs to Instagram stories or Facebook stories.