A lightweight feature would be a top thought when picking audio players. And Shanling just gave you that with the M2X product. A touchscreen on the front and a USB-C connector are among the noticeable traits that put this audio player above the cut-line. To stream HiFi music, you may use Tidal on Shanling M2X online, which supports additional WiFi for OTA updates, making it even a cooler choice for music fans. However, this is still not a guarantee for getting Shanling M2X Tidal offline.
The Tidal app on Shanling M2X is limited to the online playing feature with its subscriptions. That's unfortunate news for Tidal music lovers. Therefore, this article will focus on the Tidal offline playback on Shanling M2X to give you suggestions on how to get Tidal on Shanling M2X offline easily. Check out below.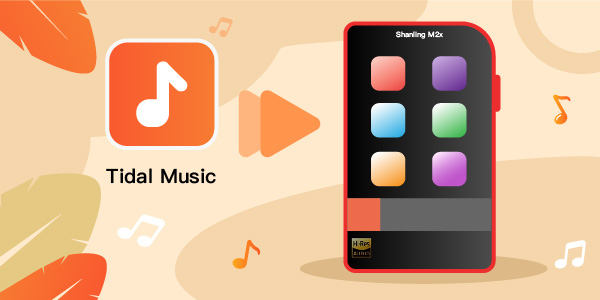 ---
Part 1. Shanling M2X Tidal – Overview
Shanling was founded in the late 1980s and has been at the forefront of producing Hi-Fi products for over three decades now. The widespread from versions M1, M2S, M3S, and M5S have seen a tremendous improvement in the functionalities, birthing the current M2X series. This comes with a curved body and easily reach control buttons on the side. You can even select which icons to hide and which ones to make visible.
When it comes to connectivity, this audio player's Bluetooth has high-quality codecs like LDAC and AptX among others. The battery life is perfect, managing around 10 hours of streaming.
Tidal is available on Shanling M2X. You can get down to streaming Tidal online with WiFi connectivity support and Tidal HiFi plans. But can Shanling M2X play Tidal offline? It, however, lacks the Tidal offline mode feature, and you will need an additional app to assist with this.
---
Part 2. Connect Tidal to Shanling M2X Offline – Best Tool
Do you want to feel all the good aspects that come with Tidal on the M2X series? Well, the best app, AudKeep Tidal Music Converter has got you covered. With this converter, playing Tidal on Shanling M2X offline is not out of the question. It can download and convert Tidal playlists to audio formats compatible with the Shanling M2X player like FLAC, WAV, AAC, etc. With the downloaded Tidal files, you can effortlessly put them to the Shanling player and play offline.
The AudKeep Tidal Music Converter is harbored with an innovative encoding technology that will convert your Tidal music at a 5X rate. It also lets you customize your Tidal songs as well as preserve the ID3 tags like genre, artist, album, etc. You can easily manage your output Tidal tracks by album or artist as you wish and change the bit rate, sample rate, audio codec, and channel to your preferences.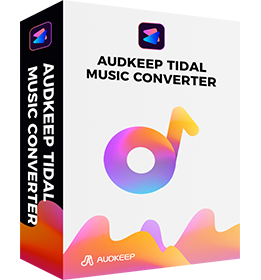 Key Features of AudKeep Tidal Music Converter
Keeps Tidal sound quality and retains all ID3 tags
Download Tidal songs with a 5X speed rate
Convert Tidal to FLAC, WAV, AAC files that supported by Shanling M2X
Listen to Tidal music on Shanling M2X offline without premium
---
Part 3. How to Play Tidal on Shanling M2X Offline
Here is a guide to stream Tidal on Shanling M2X offline in easy steps with AudKeep Tidal Music Converter.
First, download AudKeep Tidal Music Converter as your computer's operating system. Then launch the AudKeep app and click the Login button to sign into your Tidal account details in the popping Tidal app. Likewise, remember to register the AudKeep application by going to the "Register" tab. You then log in with your registration name and code to activate AudKeep software and break the limitations.
Step 1 Customize Tidal output parameters for Shanling M2X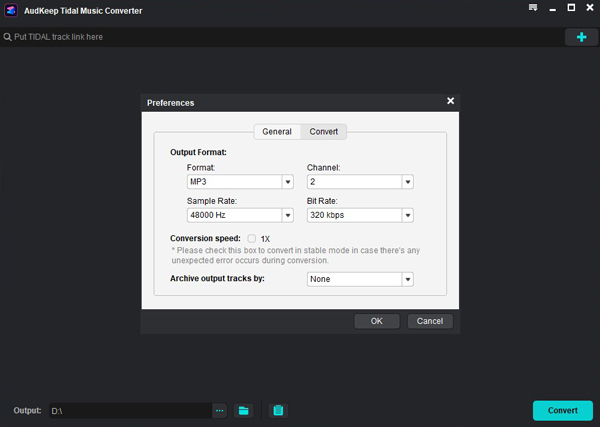 Go to the "Menu" bar and hit on the "Preferences" button from the dropdown list. A settings window will then pop up. Next, click on the "Convert" tab and start adjusting the output format of Tidal songs to Shanling M2X compatible formats like FLAC, WAV, and AAC.
You can as well personalize the audio parameters like bit rate, sample rate, etc. And if you wish to classify the Tidal output, just hit the "Archive output tracks by" button and choose whether to classify by album or artist. Confirm the output parameters and click on the "OK" button to effect it.
Step 2 Add the Tidal playlist to the AudKeep app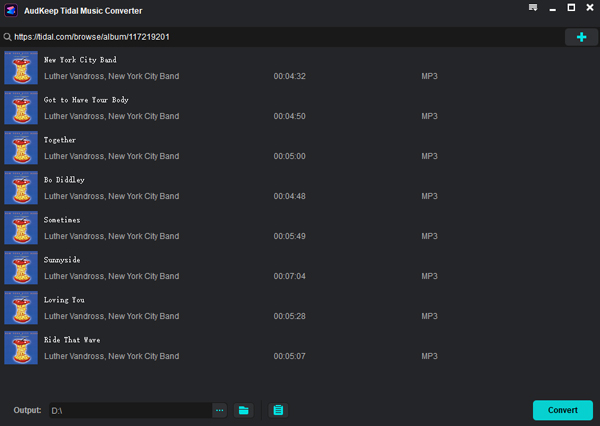 Next, find your favorite tracks or playlists in the Tidal app. Once found, open it and click on the "More" icon and copy the share link under the Share option. You then paste the copied link into AudKeep's search bar. Press the "+" icon to load all the selected Tidal songs to AudKeep software for downloading.
Step 3 Convert the Tidal playlist offline for Shanling M2X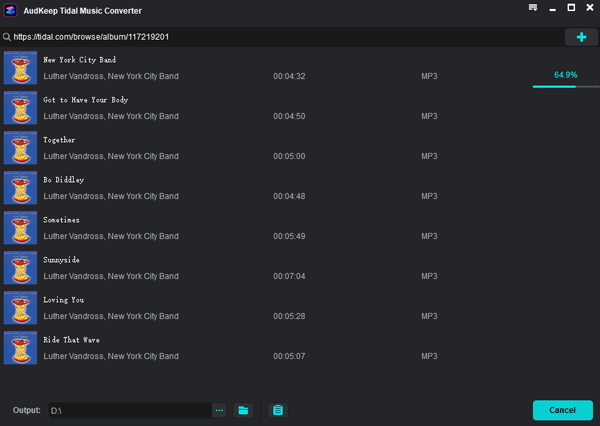 Now go to the "Convert" tab and click on it to download Tidal music without premium. Once the conversion is completed, your playlists from Tidal will be converted to your earlier selected output format with the customized settings and saved to your computer. You can direct to the output folder by tapping the Converted icon. Get ready to play Tidal on Shanling M2X offline.
Step 4 Stream Tidal on Shanling M2X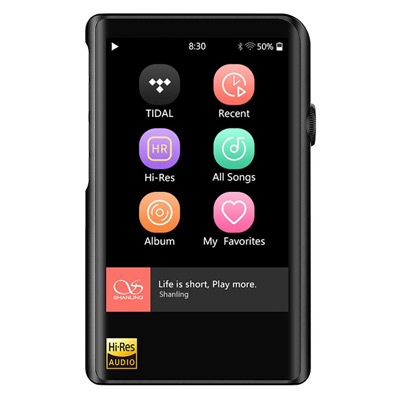 You can finally stream Tidal on your Shanling M2X audio player without an internet connection. Just connect Shanling M2X to your PC using a USB cable, browse the Tidal tracks you want to listen to, and transfer them to the Shanling M2X audio player. Now you are able to get Tidal on the Shanling player for offline playback.
---
Part 4. Final Thoughts
Are you a Tidal fun who wants to feel the beats with every step you take? Well, the best choice is here! Simply connect Tidal to Shanling M2X for a fun-filled experience. Tidal HiFi and HiFi Plus users can access music on the Shanling player with the network on.
To make Shanling M2X Tidal offline possible, you need AudKeep Tidal Music Converter to download songs from Tidal. It allows you to get Tidal music downloaded with a free account. It's good at converting Tidal to audio formats that can be input to Shanling M2X. It locks your potential to stream your Tidal tracks on the go, anywhere, anytime, and on Shanling M2X offline.