The iPod Touch seems to be compatible with Tidal playlists, while the iPod Nano and iPod Shuffle have audio file format mismatches when playing Tidal tracks. This post will teach you how to download and play Tidal on iPod without any problems.
A comprehensive explanation is provided below, and you will learn about the tool's tips and techniques. Discover the smart app that effectively addresses Tidal music streaming problems.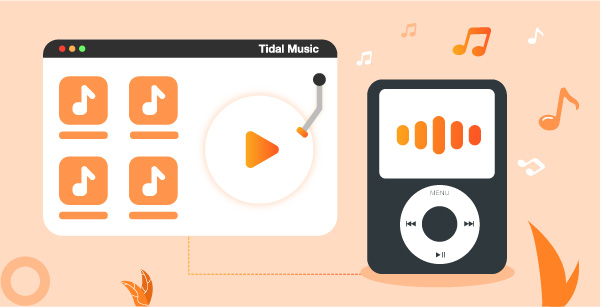 ---
Part 1. How to Get Tidal on iPod Nano, Touch, or Shuffle:Tool
When it comes to Tidal and iPod, there is a distinction between iPod music players. It can function nicely with Tidal on iPod Touch, allowing you to enjoy your Tidal music with ease. Tidal is not presently compatible with other iPod devices such as the iPod Nano, iPod Shuffle, and so on.
But do not be concerned. Here, we would like to provide a method for you to obtain Tidal play on all iPod devices without restriction. To resolve this problem, you may utilize the AudKeep Tidal Music Converter program. Because the iPod supports MP3 and AAC audio codecs, you will need to use this application to convert Tidal music files to MP3, AAC, and other popular formats.
Furthermore, the AudKeep Tidal Converter can batch convert songs from Tidal at a rapid speed while retaining excellent audio quality. You may also change the audio settings, such as sampling rate, bit rate, and channel, as you see fit. The converted Tidal audio tracks may then be saved to your PC and streamed to iPod devices for listening.
This software prioritizes quality criteria and never compromises them for any reason. The conversion occurs at a quicker pace, guaranteeing that no data is lost. You do not have to waste time waiting for the download to finish; instead, even big audio files are rapidly saved on your system disk with the appropriate file format.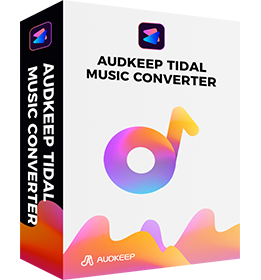 AudKeep Tidal Music Converter for iPod
Convert Tidal to MP3 to solve compatibility issues
Keep the original sound quality while preserving the sound quality
Keep the ID3 tags for each soundtrack for future reference
During the conversion, do 5X lightning rate
Another useful feature of this application is that the ID3 tags were saved for future reference throughout the conversion and download processes. Album name, title, artists, and genre are the ID3 tags. You may utilize such information and save them in your system without any problems. It facilitates fast access to preferred playlists. The downloaded Tidal tracks are accessible in the History menu, where you may stream them to any external device.
---
Part 2. How to Download Tidal on iPod Touch, Nano, or Shuffle: Step by Step
Here is a step-by-step guide on converting and downloading Tidal music to your local disk using the AudKeep Music Converter App. You will also learn how to stream music to your iPod for offline listening.
Step 1 Install and activate the AudKeep Music Converter software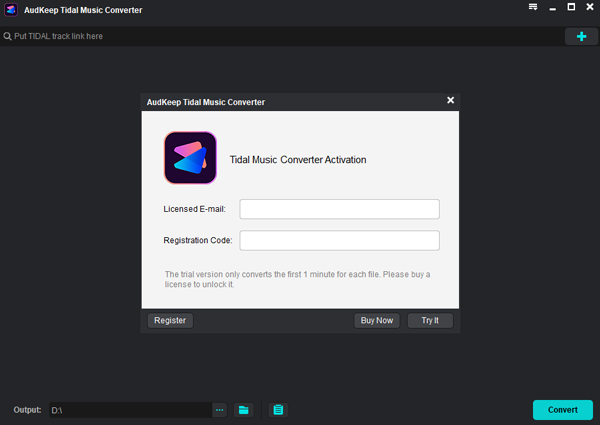 Install AudKeep and double-tap the tool icon to start the software. When you start this app, the Tidal window appears immediately beside it. To access all of the software's capabilities, tap the Register button and enter the licensed email address and registration code.
Step 2 Configure the output file characteristics for iPod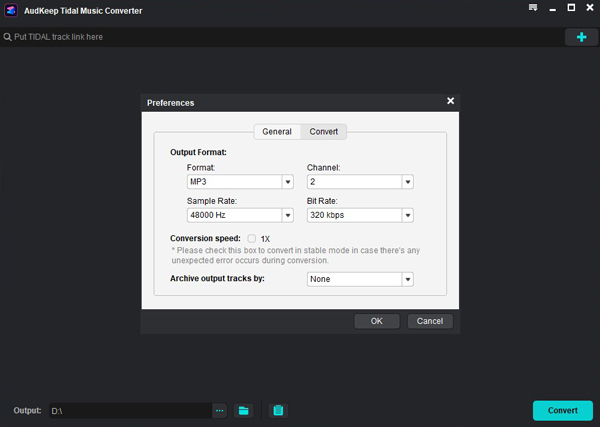 By selecting the Preferences icon from the Menu, you may configure the output file settings. The output file format, channel, bit rate, sampling rate, and conversion speed. After you have assigned the appropriate settings, click the OK button to preserve them.
Step 3 Download and convert Tidal soundtracks for iPod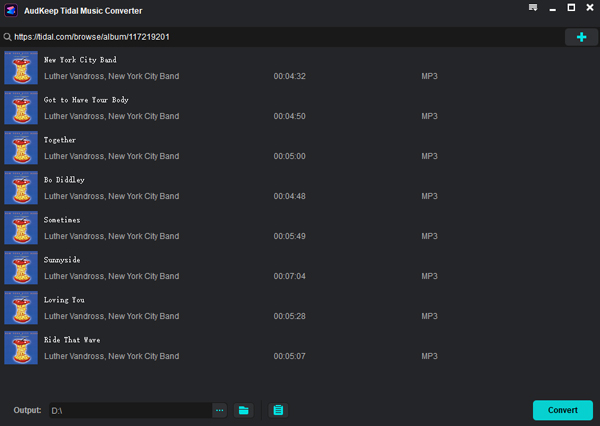 Then, at the right bottom of the screen, click the Add Music icon to add the Tidal playlists. Import the required albums into the AudKeep Music Converter software environment.
Step 4 Begin the Spotify iPod conversion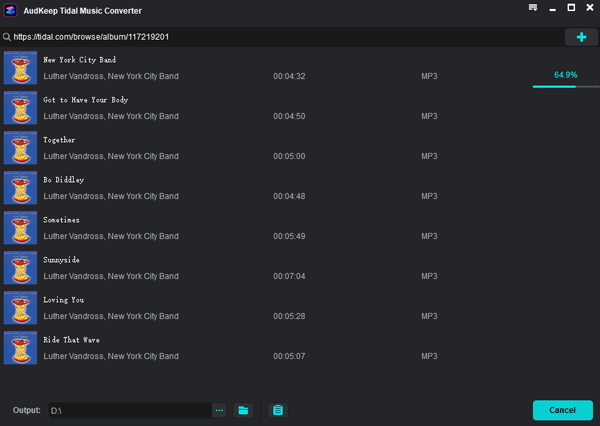 Now, click the Convert button to begin the download. The newly added Tidal music is converted to the specified output characteristics and saved on your local system disk for future use. The downloaded Tidal music may be found in the History menu or on your system's local disk.
---
Part 3. How to Play Tidal Music on iPod Nano, Touch, or Shuffle
Then, by syncing with the iTunes space, you must learn how to stream the downloaded music from your PC to the Tidal on iPod Touch, Nano, and Shuffle.
With the use of AudKeep Tidal Music Converter, you may now listen to Tidal music on your iPod. Before you may listen to Tidal audios on your iPod, you must first stream the converted Tidal songs to iTunes. Let us now examine how to do this.
1. On your computer, launch the iTunes application. To create a new playlist for storing converted Tidal songs, go to the "Music Playlists" tab and choose "New Playlist".
2. To sync Tidal audios to iTunes, choose "File" > "Add to Library".
3. Connect your iPod Nano, iPod Shuffle, or iPod Touch through the USB connection to your computer. Then, in the iTunes program, click the "iPod" button to load your iPod's information.
4. Select the "New Playlist" you just made by clicking on the "Music" > "Sync Music" > "Selected playlists, artists, albums, and genres" button.
5. Click the "Apply" button, and all converted Tidal songs will be immediately uploaded to your iPod. Now you may easily listen to Tidal music on your iPod Nano/Touch/Shuffle.
---
Part 4. Conclusion
As a result, this post has provided you with useful information on how to use Tidal on iPod perfectly. Select the AudKeep Tidal Music Converter app to stream Tidal music to your iPod. This software aids in the resolution of compatibility issues and allows for offline listening. Connect with this post to learn how to make the most use of this app in managing Tidal tracks for a smoother streaming experience.