Tidal is well-known for its high-fidelity music, providing customers with access to more than 70 million records. Fantastic podcasts, unique backstage material, live broadcasts, and performances are available on Tidal. According to the music streaming platform, it is possible to download Tidal music at up to 320kbps if you have a Tidal HiFi membership. Furthermore, HiFi Plus users can benefit from more excellent quality, up to 1411kbps.
Having said that, Tidal does not have a free version which means not everyone has access to it. But thankfully, this can be possible with the help of GitHub. And if you are wondering how to download Tidal music GitHub, don't worry; we've got you covered. In this article, you'll discover the stepwise guide to downloading Tidal music on GitHub and an alternative way for you to enjoy Tidal offline easily. Let's get started!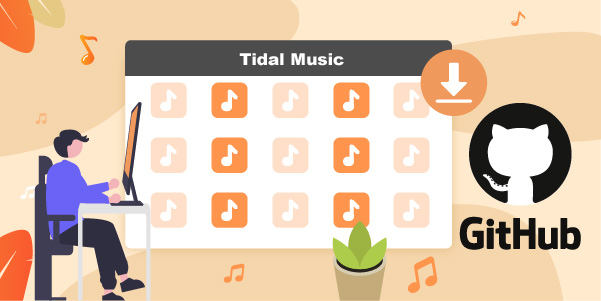 ---
Part 1. How to Download Tidal Music on GitHub
If you work in the IT industry, you've probably heard of GitHub. So, what exactly is GitHub? GitHub is the world's most extensive and sophisticated software development platform, used by millions of developers and businesses to create, ship, and maintain their software. Here's the best part: It is free to use. This open-source GitHub website gets anything for you, so it won't be hard to find the Tidal downloader GitHub.
The app that can help you download music from Tidal on GitHub is Tidal-Media-Downloader. It is a free and simple-to-use solution that allows users to download videos and tunes from the Tidal streaming service. It is available in two versions, tidal-dl, and tidal-gui respectively. Furthermore, it is a cross-platform toolkit, meaning that it is compatible with the Mac OS X, Windows, Android, and Linux operating systems. But this program will require you to purchase a Tidal HiFi membership.
Now, follow the instruction down below if you want to convert Tidal songs using the Tidal-Media-Downloader: tidal-dl and tidal-gui on GitHub.
Step 1: First and foremost, download the tidal-gui or tidal-dl on GitHub without installing it.
Step 2: After that, log into your Tidal Hi-Fi account using either the tidal-dl or the tidal-gui interface.
Step 3: Now, type 2 and press Enter to change the parameters to meet your specifications. To download music from Tidal, copy and paste the URL of the song you want to download.
Step 4: Now, using tidal-dl or tidal-gui, you can download and store Tidal songs on your computer.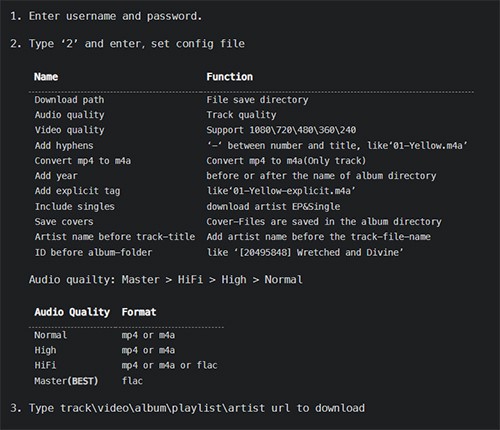 ---
Part 2. Alternative Way to Download Tidal Music on GitHub
A HiFi membership is required for the tool discussed above if you want Tidal to download songs. However, can you get music from Tidal for free in another way? That's where a professional tidal music downloader tool comes in. And if you're looking for one, the AudKeep Tidal Music Converter is your best bet. It is the best alternative way to GitHub and an all-in-one solution that enables you to download Tidal music without the subscription on Tidal.
AudKeep Tidal Music Converter is an outstanding and fantastic Tidal music converter and downloader for all Tidal users. It is created explicitly for Tidal subscribers to download Tidal songs, playlists, albums, and so on to their PCs. After downloading, all of your Tidal music will be saved as local files on your computer in lossless quality. Thus, you can enjoy high-quality Tidal music without any restriction on your computer.
What also makes it excellent is that it can convert Tidal audio to MP3 and other widespread formats such as AAC, M4A, WAV, FLAC, and M4B in order to make it compatible with your selected playing device. You can listen to Tidal music on whatever player or device you wish. AudKeep Tidal Music Converter is the finest Tidal music downloader because of its exceptional features such as 5X conversion rate, uncompressed Tidal quality, bulk download, and info preservation.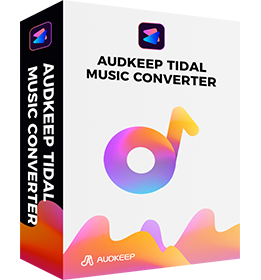 Key Features of AudKeep Tidal Music Converter
Download lossless Tidal music to multiple formats
Compatible with PCs running macOS and Windows
Simple and easy-to-use user interface that allows you to convert Tidal tracks with ease
Automatically download Tidal songs at a 5X faster rate with a few simple steps
If you don't possess a premium account on Tidal to use the Tidal downloader GitHub but still are eager to download the Tidal playlist for listening offline, try the alternative tool, AudKeep Tidal Music Converter we recommended. You can then follow these instructions.
Step 1 Setup AudKeep Tidal Music Converter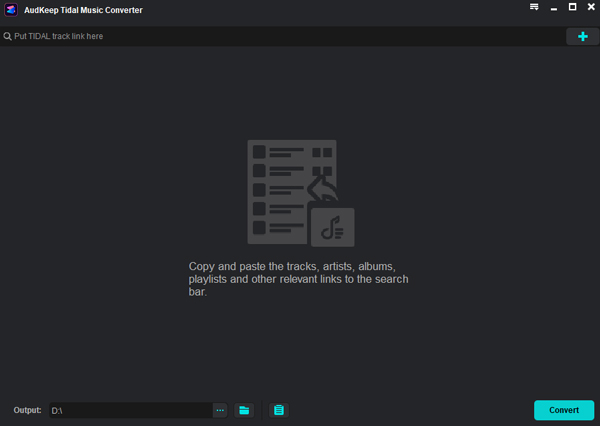 Download and install the AudKeep Tidal Music Converter, then launch it on your computer. Log into your Tidal account and register for the AudKeep software.
Step 2 Customize the output configuration for Tidal music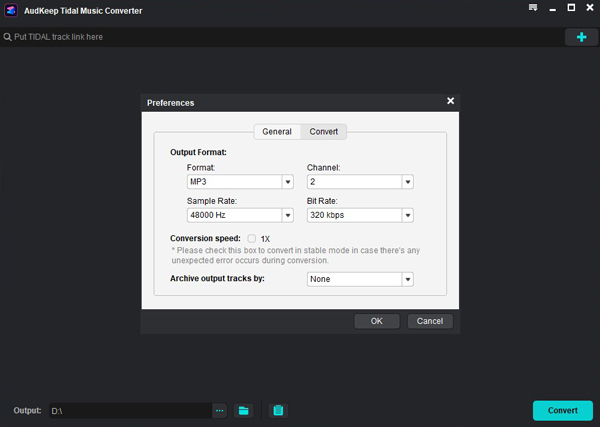 Click the Preferences icon on the top menu bar. You can change the output format by selecting Advanced in the options box. Other audio parameters, such as bit rate, sample rate, and audio codec, can also be customized. Then click OK to save the output configuration after you're done.
Step 3 Upload the Tidal playlist to AudKeep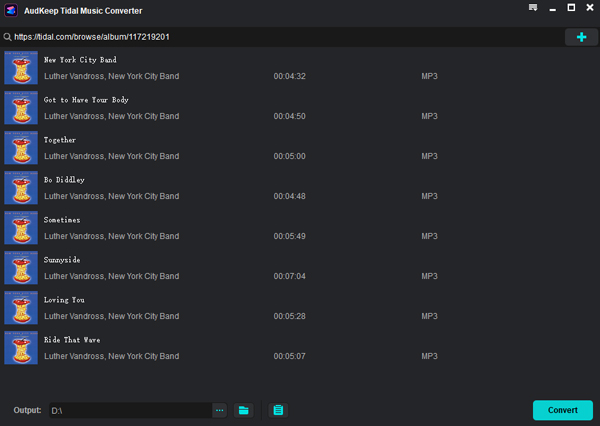 Now, use the built-in Tidal Web Player to search for your favorite Tidal playlists and albums. Then click on the blue + icon to add it to the AudKeep's interface once you've found the HiFi song or playlist.
Step 4 Download Tidal music using another way to GitHub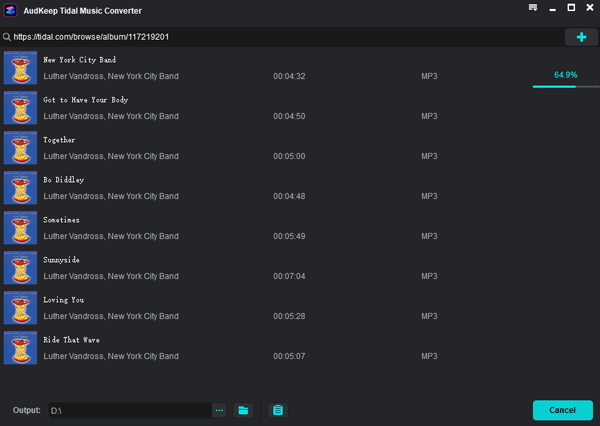 Select the Convert option in the conversion box to begin the Tidal conversion. With AudKeep Tidal Music Converter, you can download Tidal HiFi music maintaining the original quality quicker, and save it to your PC for offline listening without being a Tidal Premium user.
---
Part 3. Conclusion
Since GitHub is available and accessible for everyone to use for their projects and other stuff, putting Tidal music by the Tidal downloader GitHub allows people to get it free. However, most Tidal users get a little confused about how to download Tidal music GitHub, but we hope we have compiled all the information one needs.
Moreover, we recommend utilizing AudKeep Tidal Music Converter to download the Tidal music to your PC. It's easier for you to download lossless quality Tidal music files with an easy-to-use and intuitive interface. Within a few steps, you can enjoy your favourite Tidal songs without premium. So, download AudKeep Tidal Music Converter to your PC and get your musical journey today!