If you are here reading this, you are a music lover and enthusiast. And you are not the only sole member of this music craving group. If you look around and analyze well, you will find many similar people with good music and related converters and devices. Many even go to greater lengths, such as buying entire theatre-like sound systems that allow them to enjoy the music of their liking to the highest level possible.
There are these kinds of die-hard music lovers, and then those creative beings are just satisfied with listening to music without portable devices and glitches. You must already know what a Tidal music converter is? No? Well, you are at the right place then. Because as you read along, you will get to know all its important aspects. Apart from that, if you use InShot, you will also learn to add music to InShot from Tidal using AudKeep Tidal Music Converter.
Read along to know the functions and procedures, and let the music make a difference in your life!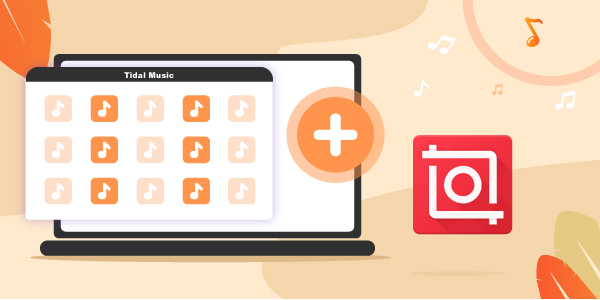 ---
Part 1. What You'll Need to Import Music from Tidal to InShot
Using internet data to live stream or listen to songs can prove quite expensive if you spend hours streaming and listening to music online. Although effective, it is not always convenient as one will have to deal with technical glitches, buffering, and copyright issues. And if you are included in the group that uses music for making InShot videos, then you must have faced the difficulty to add music to InShot from Tidal. This issue arises because of differential and varied audio formats in both.
While music converters allow converting heavy music files to other apps and devices, the process is time-consuming, and there are chances of losing some files. It is where AudKeep Tidal Music Converter enters the picture. With the help of this spectacular music converter, you will be amazed at how to import music from Tidal to InShot quickly and easily.
Below are some of the key features that will allow you to better understand it. In simple words, how its features work in converting the music files into compatible audio formats to transfer Tidal music to InShot.
AudKeep Tidal Music Converter has a default mechanism. One can convert Tidal music to different formats such as MP3, WAV, M4A, M4B, FLAC, and Lossless without altering the original track quality. It allows the user to manage large numbers of music files efficiently. You can sort out songs based on artists and albums. All the users who purchase it will have lifetime access to free support and even updates.
AudKeep is created with a user-friendly interface, hence it is simple to use and operate by anyone. It has a built-in web player and has been designed to convert all audio formats used on PC and Mac. More importantly, it can transfer Hi-Fi and high-quality tracks to the personal computer and play them anywhere without any issue. One can even customize the output quality and protect the lossless quality.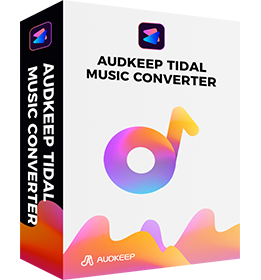 AudKeep Tidal Music Converter for InShot
Convert Tidal music to various formats with original track quality
Download and transfer music from Tidal to InShot for use
With a 5X faster speed to download songs from Tidal
It's easy to use and with a built-in web player
---
Part 2. How to Convert Tidal Music to InShot Video
Music files come in different formats, and this is why it is not easy to transfer music files to the different apps and devices you have. But if you use Tidal and InShot and wonder how to add music to InShot from Tidal in common audio formats, the below-mentioned steps can be helpful for this task.
Step 1 Install and log into AudKeep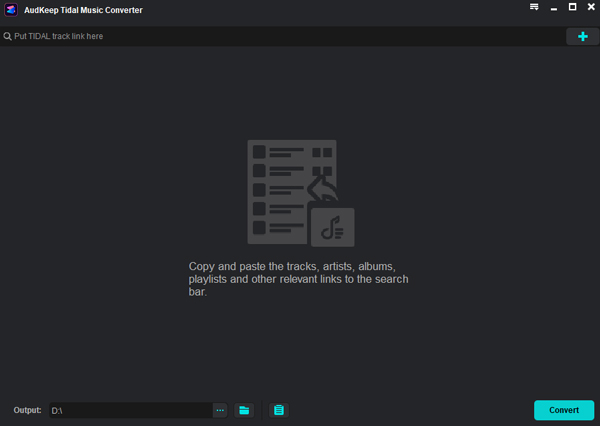 The first step in the process is to launch or open Tidal and log in to your Tidal account.
Step 2 Reset Tidal output formats for InShot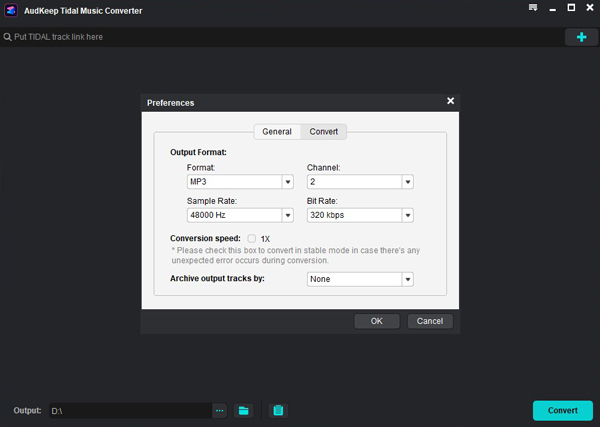 You will find the settings button in the upper-right corner. You can change the output format, destination of the folder, audio quality, etc., by choosing the desirable format. You can convert Tidal to WAV and other output formats.
Step 3 Import Tidal music to AudKeep for InShot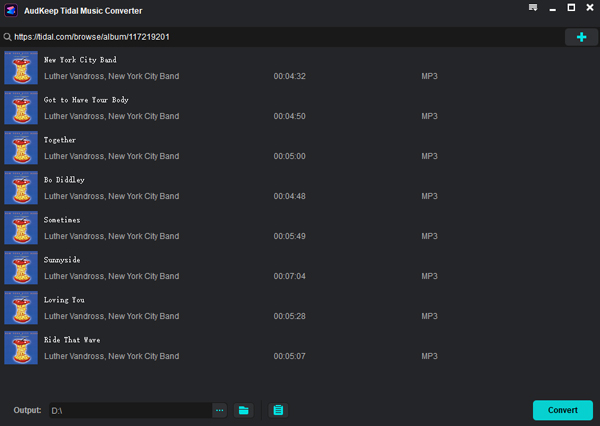 Now go ahead and add a track or playlist as per requirements and click on the blue button at the bottom right section. Then select the song that you wish to convert from Tidal.
Step 4 Convert and download Tidal for InShot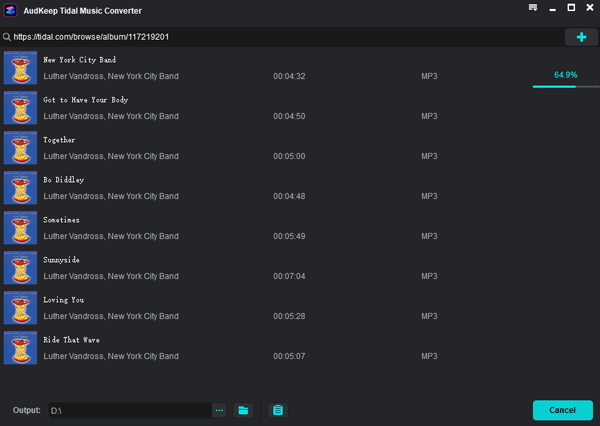 After selecting the songs, click convert and initiate the conversion process. Now you can use these common formatted audio files and add Tidal music to InShot videos.
---
Part 3. How to Add Tidal Music to InShot Videos
Tidal is one of the most popular music streaming solutions amongst music addicts throughout the globe. If you own an iPhone and are looking for ways to add Tidal music to InShot on iPhone or Android, you have come to the right place. Go ahead to find out the information that will help you do so. On a simple note, all you have to do is download the AudKeep Tidal Music Converter first. Next, follow the steps to download Tidal music without premium.
1) Launch Tidal and log in to the respective account.
2) Change the format to a desirable one by clicking on the settings button.
3) Now click on the blue button below and select the track you want to convert from Tidal.
4) Then click on convert and start the process.
5) Now you have the track in the desired location in your phone, which you can use and add to the InShot app.
How to Add Tidal Music to InShot on iPhone
The process of adding Tidal music to InShot present in your iPhone is similar to the above, with minute differences. With the guidelines below, you can add music to InShot from Tidal easily.
1) Open Tidal and log in to your account.
2) Search for the track of your desire.
3) Then, tap on the track and select 'download' on your iPhone. You will need to long-press the track name to select download.
4) Tap on the 'offline' mode in the setting section and access it on the "My Collection" download section.
5) Now that it is downloaded for offline use, you can add the track to InShot.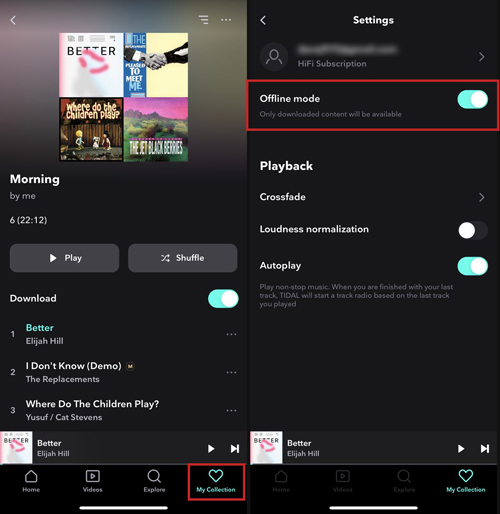 How to Add Tidal Music to InShot on Android
If you use the InShot app on an Android phone, the below-mentioned steps will guide you on how to add Tidal music to InShot Android. Read along to find out.
1) If you have already downloaded the Tidal app, open it on your Android.
2) Tap the search button to access the track or playlist that you want.
3) Then, tap on the download button to download it on your Android.
4) You will find the downloaded music in the downloads section of "My Collection".
5) Go to the Settings and enable offline mode. Now you can use these tracks offline on InShot on your Android. Now you can add music to InShot from Tidal easily.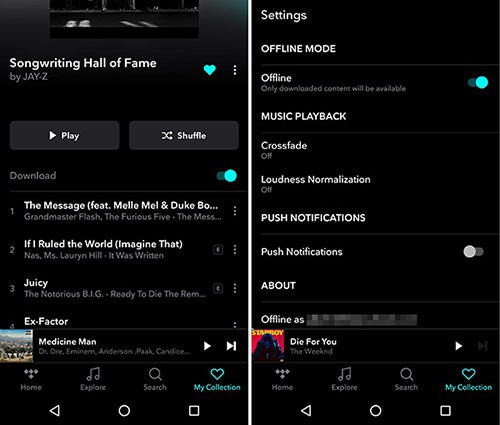 ---
Extra Tips: How to Edit Video with InShot
In this digitalized era, everyone uses smartphones and various apps. InShot is a video and photo editing app for Android and iOS, with millions of users across the globe. It has many features that allow one to edit videos easily, apart from knowing how to set Tidal as InShot background music. Some useful tips are mentioned below.
One cannot film videos on InShot. They are only for export purposes but can import any video from your device.
There are many orientation options that you can select from, ranging from YouTube to IGTV.
You can easily add music to your InShot videos. Just go to the music library and select the track you like.
You can trim them by selecting 'trim' and adjusting the sliders, then tap on the checkmark to finish.
You can even split it by tapping on 'trim' and selecting 'split'. Then move the red-dotted white bar to and fro as per your wants and tap the checkmark.
You can even add filters and adjust the effects to blur, mosaic, etc.
---
Conclusion
Creative individuals that use music to create unique content via InShot and other similar apps will always be on the lookout for efficient music converters that will allow HiFi and smooth transfer of the music beat from Tidal to other portable and wired devices easily.
But now, with Tidal Music Converter, all your stress and worry can go down the drain. Now that you know how to add music to InShot from Tidal and to your iPhone and Android as well, you can now use and play music on any possible device there is and have the time of your life with your favorite music by your side.