Are you tired of wasting time at home by doing nothing but lounging around? Do you need some new forms of entertainment to keep you occupied? If yes, then we have good news for you. No more getting bored because T-Mobile announced the latest T-Mobile Tuesday deals to entertain the customers like never before. For the best part, T-Mobile will also work with Tidal, an amazing artist-owned music streaming service, on Can 19 as part of T-Mobile Tuesdays.
As part of this Tidal T-Mobile partnership, T-Mobile will provide its customers with three free months of Tidal Premium. In addition, T-Mobile customers can access exclusive playlists curated by artists such as JAY-Z, H.E.R., and Lil Wayne, amongst others. In this article, we will tell you what Tidal exactly is and its relationship with T-Mobile. Besides, we will show you how to get Tidal free with T-Mobile and more. Let's get started!
---
Part 1. Tidal T-Mobile – What You Need to Know
Tidal is a worldwide musical and entertainment network accessible in 61 countries. Its primary goal is to link music creators and their audiences through one-of-a-kind music and content experiences.
Tidal has over 90 million pieces of music in its collection and over 450,000 high-quality video content, providing ardent music fans with expertly curly curated premium and high-fidelity sound quality and high-resolution video and editorial content. Thanks to Tidal, T-Mobile users now have the option of having tailored video mixes delivered directly to the device of their choosing.
T-Mobile users can go to the T-Mobile Tuesdays app to save the deal and redeem it. This will save consumers approximately $30 throughout the three months of free Tidal Premium service. If you do not cancel your membership before the end of the free trial period of three months, it will be automatically renewed after the trial period and charged at a rate of $9.99 or more per month.
As part of its Tuesday promotion, T-Mobile is also providing customers with other entertainment incentives, such as the opportunity to rent a standard definition movie for $2 on FandangoNOW.com.
---
Part 2. How to Get Free Tidal with T-Mobile
Do you get Tidal with T-Mobile? How can you use Tidal on a T-Mobile? What are the steps for downloading Tidal without paying? So many questions might be popping into your mind. No worries, we have you covered.
T-Mobile is a partner of Tidal, much as Sprint is. Three months of Tidal HiFi is on the house when you sign up for T-Mobile service on your phone, tablet, laptop, or T.V. The highest quality versions of your favorite songs are available for listening to. T-Mobile's offline mode lets you save your favorite tracks from Tidal to listen to later. Using this information, you can access Tidal songs even if you don't have access to WiFi or LTE.
For the first three months, T-Mobile customers can stream the entire Tidal catalog without paying a dime. So why not try the free Tidal T-Mobile trial if you're hooked on the MQA and HiFi audio experience? It is simple to gain a free trial of Tidal with T-Mobile. Here's the guide for you.
Step 1: Go to the Tidal T-Mobile page: https://tidal.com/partners/t-mobile.
Step 2: Tap the Get Tidal button in the center, which will redirect you to the redeem page.
Step 3: Enter the voucher code to see your Tidal offer.
Step 4: Then you need to create a new login account. Complete the payment details and you will get Tidal Premium free for 3 months.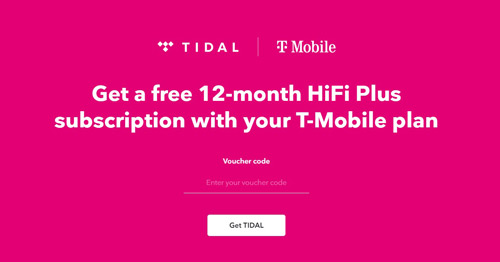 ---
Part 3. How to Get Free Tidal without T-Mobile
If you're satisfied with Tidal Premium during the free trial, you can choose to continue to subscribe to it. However, what if you don't use T-Mobile, how can you get Tidal free? All you need is a powerful Tidal music converter and AudKeep Tidal Music Converter is your best option when converting and downloading music from Tidal.
The AudKeep app works well on Mac as well as Windows computers. With the help of the AudKeep app, you can download Tidal HiFi or Master music to multiple formats such as WAV, FLAC, and MP3. Most importantly, it saves your favorite tracks from Tidal on your computer with nothing lost at a five times speed. Without a Tidal subscription, you can still use the Tidal app to import Tidal music to the converter. Tidal songs downloaded can be streamed offline on plenty of devices as you wish as long as the devices support the audio formats.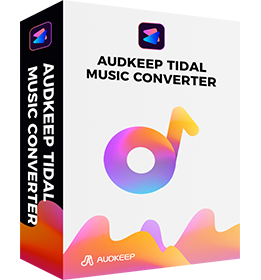 Key Features of AudKeep Tidal Music Converter
Perform a successful conversion of Tidal to AAC, MP3, FLAC, etc.
Ensure that Tidal music's ID3 tags and quality remain intact
Create a local copy of Tidal songs without using Tidal Premium
Convert music from Tidal to a computer at a 5X speed rate
Read ahead for a comprehensive guide on how to obtain music from Tidal onto your computer without T-Mobile.
Step 1 Get AudKeep Tidal Music Converter on PC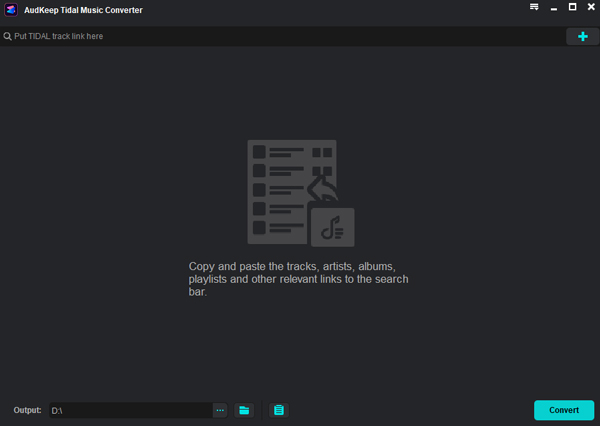 Download and run the AudKeep Tidal Music Converter installation program on your Windows or Mac computer. After the installation, double-click the AudKeep app and launch it. From the menu at the top bar, choose "Register" to register the AudKeep software. And on the Tidal app, enter your Tidal credentials to Log in.
Step 2 Customize output parameters for Tidal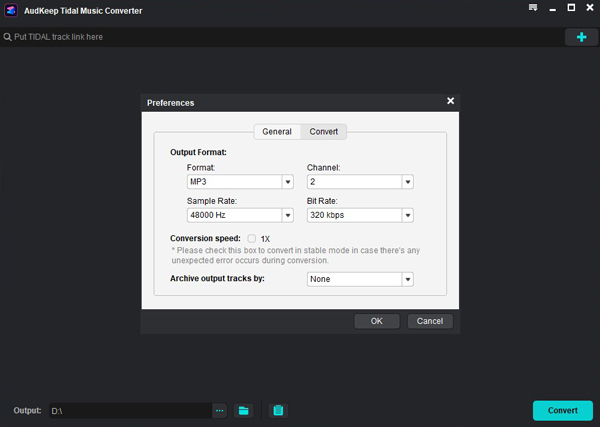 Now, go to the "Preferences" tab by clicking the menu button to customize audio settings for Tidal songs. Proceed to the "Convert" option to configure the output settings, including output format, sample rate, bit rate, channel, etc. The AudKeep software allows you to export Tidal in various formats, including M4A, MP3, WAV, and more. After you have finished making all of the necessary adjustments, choose the OK option.
Step 3 Upload Tidal songs to AudKeep software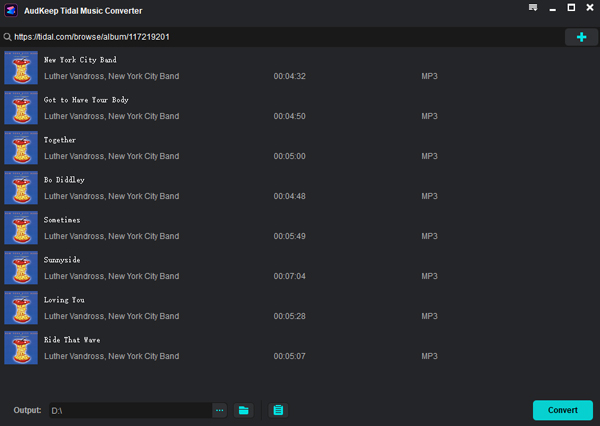 Then, from the Tidal app, copy the URL to Tidal music and then paste it into the search box at the very top of the AudKeep Tidal Music Converter. Click the + sign to add Tidal songs. In another way, drag and drop the Tidal playlist you like to the AudKeep converter.
Step 4 Download and use Tidal free without T-Mobile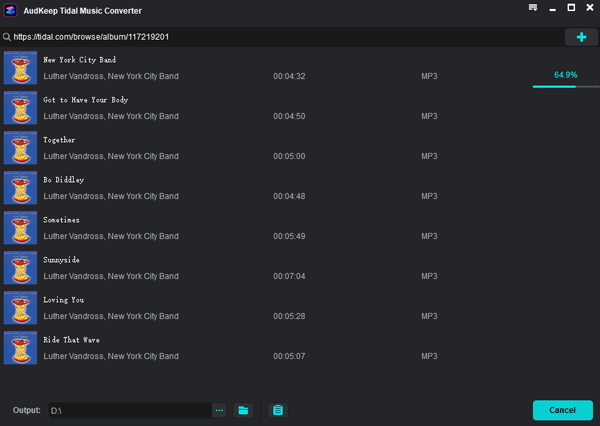 Start the download process by clicking the "Convert" button on the toolbar. Wait for the process to finish. You can find the folder that stored your downloaded Tidal files by hitting the icon labeled Converted, located at the bottom of the AudKeep app. Once done, you can listen to Tidal offline on any device.
---
Part 4. FAQs of T-Mobile Tidal
Q1. What Services Are Free with T-Mobile?
Now, T-Mobile subscribers can access over 100 free streaming music and video services, including Amazon Video, HBO NOW, Hulu, Netflix, SlingTV, YouTube, and many other popular options.
Q2. How Much Does Tidal Cost with T-Mobile?
If you don't cancel before your free trial ends, you'll be charged $9.99+ per month after the first three months. Moreover, T-Mobile Tuesdays at Home promotions keep pouring in.
Q3. How to Use Tidal with T-Mobile without Getting Message with Password?
Step 1: Launch the Tidal app on any electronic gadget.
Step 2: Select "Login" and "Reset password" from the homepage menu.
Step 3: To use the Tidal service with your T-Mobile phone, enter your phone number below.
Step 4: An SMS with a link to change your password will be sent to your phone shortly.
Q4. How to Cancel Tidal Subscription with T-Mobile?
You can stop the service anytime by texting "TIDAL ANULUJ" to the number 8017. The cost of sending an SMS message is zero.
---
Part 5. Conclusion
Many other carriers and music streaming services were caught off guard when T-Mobile and Tidal made that radical shift. But now it's here! You can use Tidal with T-Mobile for 3 months! And we have shown you the instructions above. If you don't get T-Mobile and want to enjoy the offline feature as Tidal T-mobile users, AudKeep Tidal Music Converter has added to the fun by allowing you to download songs from Tidal for free. So give it a try today.